Cable TV Head-End _100 TROPHY-ACCESS channels_12 DVB-C carriers
$33,765.00


---
A calculation for a 100-channel Head-End is below.
DVB-T2 to DVB-C transmodulator processes up to 4 full T2 streams. It is assumed that the number of T2 programs is 30.
It is assumed that one SAT-streamer receives, on average, 3 TV programs from a Satellite. To receive 70 programs, you must install 24 Streamers.
Receiving antennas and LNBs are not indicated in this calculation.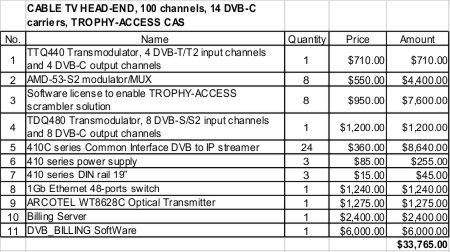 Description
Reviews